2013.11.25 | Celia Haldan Voetmann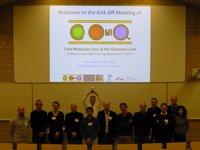 All COMIQ beneficiaries met in Aarhus in the weekend of 22-23 November 2013 where all ESR projects were presented to allow the partners to have a full view of what will be going on at the different nodes during the next 48 months. This was followed by discussions as to how to fulfil deliverables and milestones and a presentation of the budget and the most important EU rules.
The meeting took place at Aarhus Institute of Advanced Studies.
COMIQ